Thursday, October 18, 2018
6:00-8:00 PM
The Kitchen
231 East Livingston Avenue
Columbus Ohio
---
What a nice time everyone had at FYLaw's 20th anniversary celebration on Thursday, October 18th.

20 years. That's four Executive Directors and one Interim Director. Five Capital University Law School Deans. Five Capital University Presidents and three Interim Presidents. Four US Presidents. Five Ohio Governors. 684 episodes of Sesame Street.

FYLaw's origin story includes an off-hand comment from the late Dave Thomas, an adopted child, the founder of Wendy's, and the push behind many initiatives to encourage adoption. In 1997, the University's President and the Law School's Dean approached Mr. Thomas to ask if he would consider a financial gift toward renovating the future house of the law school at 303 East Broad Street, renovations that would include the school being named in his honor. Reportedly, he responded, "Why would I do that? Lawyers have made things more difficult!" But he countered with a proposal to establish a center to promote adoption so that "children's pajamas were in the drawers of permanent homes." That got people thinking, and in February, 1998, our Center opened its doors with a $250,000 gift from the Dave Thomas Foundation for Adoption.

The 20th celebration brought back many people who made FYLaw what it has become today. 50-some guests enjoyed each other's company for two hours- catching up, laughing, and talking about the origins of FYLaw.

Executive Director, Douglas Althauser, welcomed the crowd, and introduced Capital University President Beth Paul and Law School Dean Rachel Janutis who welcomed guests and talked about the contributions FYLaw makes in the community. Kent Markus, the first Director of the Center (back when it was named the Dave Thomas Center for Adoption Law, and then the National Center for Adoption Law & Policy) delivered remarks about the families-by-any-means philosophy that started and maintained the Center. Retired Ohio Supreme Court Justice Evelyn Lundberg Stratton spoke about how the community recognized the need for an organization that would advocate for adoptions, and the influence this had, such as when the Supreme Court formalized rules for Ohio courts that expedite appeals and hearings related to adoptions. Melinda Haggerty, Senior Vice President and General Counsel with the Dave Thomas Foundation for Adoption spoke on the dedication of Dave Thomas, himself, and the Foundation's ongoing commitment to helping children find forever-homes; a dedication which has included supporting FYLaw through two decades.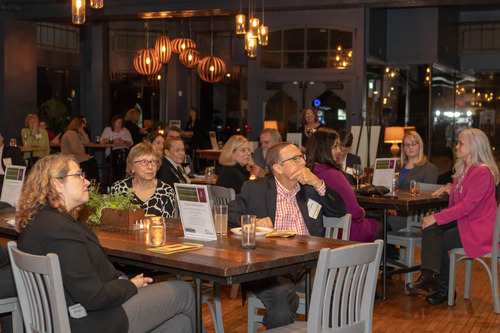 Attendees enjoying themselves and watching a perpetual slide show at The Kitchen, 231 E Livingston Ave, in Columbus




Capital University President Beth Paul, and former FYLaw Intern Kevin Serrott talk with a FYLaw supporter.




Melinda Haggerty (L) and Ret. Justice Evelyn Lundberg Stratton

Former Executive Director Kent Markus

Capital University Law School Dean Rachel Janutis addresses attendees

Playing for a chance to win a weekend stay in
Hocking Hills




With Star House Outreach Director Lamar Peoples

After the guests spoke, Douglas talked about FYLaw's future. FYLaw will retain its purpose of promoting adoptions, family security, and child welfare. He mentioned our upcoming representation of families for National Adoption Day, and our ongoing clinics in Star House and Kaleidoscope drop-in centers. He also talked about some of the new directions that FYLaw will pursue in the coming months. Just within the three weeks prior to the celebrations, FYLaw received notice that it has commitments for grants or contracts from:
The Supreme Court of Ohio to expand services offered by the Family & Youth Advocacy Center beyond central Ohio through electronic communication,

Franklin County Juvenile Court to provide mentorship opportunities for young people in the Franklin County Juvenile Court Diversion programs, particularly related to Truancy,

The Ohio Children's Trust Fund to provide inservices and one-on-one legal advice for parents receiving treatment for addiction or alcoholism,

The Ohio Department of Youth Services to provide legal advice, direction, and possibly advocacy so young fathers in DYS custody or supervision can maintain relationships with their children, and

Southeastern Ohio Legal Services to provide legal guidance for economically disadvantaged people who want to represent themselves in Southern-Ohio family courts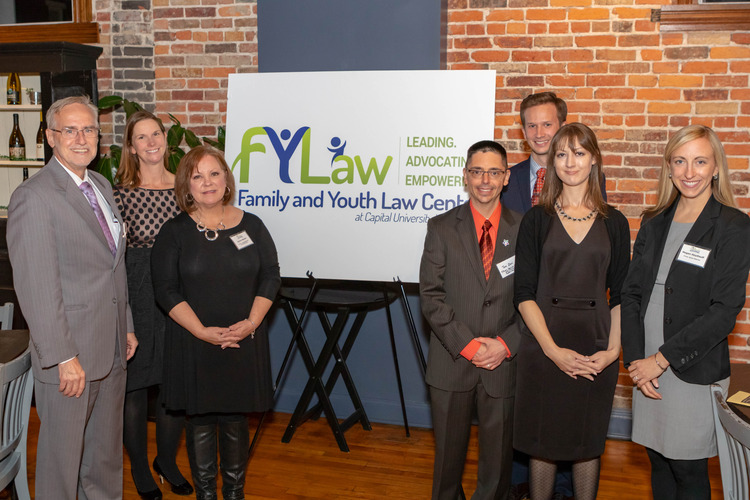 FYLaw Staff: (from left): Executive Director Douglas Althauser, Associate Director for Information Services Christine Morris, Associate Director of Finance Jackie Martin, Staff Attorney and Clinic Supervisor Tom Zani, Staff Attorney Byron Tocheri, Social Work Projects Coordinator Dana Schmersal, and Staff Attorney Megan Heydlauff
Photos by Jaron Murphy (find him on FaceBook at Jaron Murphy Photos): www.instagram.com/jaronmurphyphotos
Thank you to those who were able to join us at the celebration. Let's look forward to the next 20 years!

Thank you to our sponsors for the event:
Dave Thomas Foundation for Adoption
Nationwide Children's Hospital
Taft Stettinius & Hollister LLP
HB Lipton Strategy Group LLC
---
Proceeds will support initiatives of the Family and Youth Law Center (FYLaw).
If you have any questions contact Jackie Martin at 614.236.7239 or at jmartin@law.capital.edu.